Our Kinder Goat Herd
This page introduces our Kinder goats. We are starting with young goats and we will add photos as they grow. Click on their photo or name to go to their page and see pedigree and other information.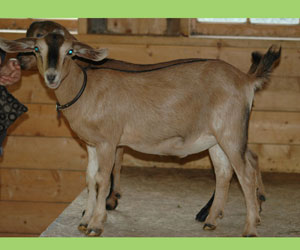 Olive Knoll Seraphina
Seraphina is a cheerful and elegant doeling. Her dam Edelweiss is a lovely doe with a nice stocky Kinder build and good milk production. Seraphina arrived looking tall and leggy and it is just recently that I've seen her depth of body and width genetics suddenly kick in and she is looking wonderful. She is smoothly blended and shows a lot of room to carry babies and still have room for a full rumen. I expect good things from her given the quality of her dam.
Her sire Serena Kinders Trude's Fantin is a very solid, well-blended buck with lots of width, length and depth of body. He is a good choice to bring the thickness to embody the meat end of the dual purpose spectrum. I expect Seraphina to be a solid and stocky doe with an easy to milk udder. I look forward to what she'll pass on to her kids.