Our Kinder Goat Herd
This page introduces our Kinder goats. We are starting with young goats and we will add photos as they grow. Click on their photo or name to go to their page and see pedigree and other information.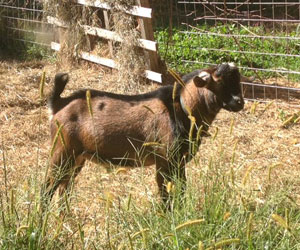 Pricker Patch Farm Tobias
Tobias has had a nice blocky body since birth. I like his brisket and his overall smoothness and balance. I expect him to pass on his width and brisket to his offspring. I would guess that doelings sired by him are likely to have good udder attachments as well as his width. He's a handsome well-blended buck and I'm excited to see his kids next spring.
I'm happy to have Tobias here at our farm. His sire gave him (and his sister Capella) very nice briskets and wide rumps that I expect them to pass on to their offspring. His paternal grand-dam is a lovely meaty example of the Kinder breed with smooth fore-udder attachment and wide rear udder attachment. Tobias' dam gives him the genetics for tightly attached udders and nice width throughout. She's a slightly more refined example of Kinder and pairing her with Bramble Patch Kinder To-Winn brought some more meatiness to the offspring.