Our Kinder Goat Herd
This page introduces our Kinder goats. We are starting with young goats and we will add photos as they grow. Click on their photo or name to go to their page and see pedigree and other information.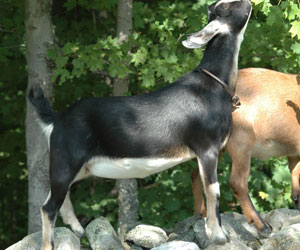 Pricker Patch Farm Delphina
I am excited to have this doeling whose dam Velvet is one of the most elegant Kinders I've seen. She is feminine with depth of body and width in her back end to have room for a great udder. As soon as I saw her photos I knew I wanted a doeling out of her. Velvet has an excellent udder with a smoothly blended fore-udder, nice sized teats and abundant milk production. Velvet has a long and level topline and above average attachments on an easy to milk udder. I expect Charlie to have brought some meatiness and width to this genetic mix that has produced this doeling Delphina AND her brother Caleb who also joined our herd as a future stud. Charlie is out of Serena Kinder's favorite doe, Serena Kinders Browner, who has a capacious easy-to-milk udder and passes on that width to her offspring. Charlie's paternal lines come out of Gray J Kinders, a line that has been very important in breeding many high quality Kinders.
Delphina has looked wonderful since birth, exhibiting that width and thickness one likes to see in a Kinder. She's also full of vigor, outgoing and friendly. I would not be surprised if she ends up being the herd leader but only time will tell.