Our Kinder Goat Herd
This page introduces our Kinder goats. We are starting with young goats and we will add photos as they grow. Click on their photo or name to go to their page and see pedigree and other information.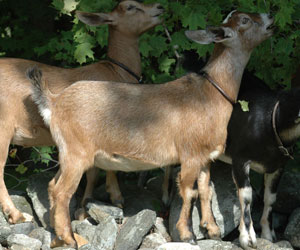 Pricker Patch Farm Capella
Capella started out life ginger-colored but has matured towards a reddish roan color. She's been sturdy since birth with a nice brisket and rectangular body showing her ability to bring meaty genetics to this dual purpose breed. Both sides of her pedigree bring milk to the mix with her dam Serena Kinders Triscuit having a tightly attached udder that milks like a dream. Triscuit gets her genetics from the Serena and Bramble Patch lines. Capella's sire, Bramble Patch Farm To-Winn, brings milk and lovely level toplines to Capella's future babies from a pedigree that is filled by two important herd names: Tickleweed Hill Farm and Bramble Patch Kinder.
Capella is a bit shorter than the other doelings of our herd and that is not unexpected since her mother is on the shorter end of the spectrum. Her dam is also a bit more on the refined and elegant end of the Kinder spectrum. BPK To-Winn was chosen as a match for Triscuit because the meatiness in his genetics could balance out the refinement of Triscuit. Indeed, this is what I see in both Capella and her brother Tobias. Both seem to find a balance between refinement and stockiness. I believe Capella will be an excellent mother. She came to us shy and while still the shyest of our 4 doelings she longs for as much snuggling from me as I have time to give her.