Our Kinder Goat Herd
This page introduces our Kinder goats. We are starting with young goats and we will add photos as they grow. Click on their photo or name to go to their page and see pedigree and other information.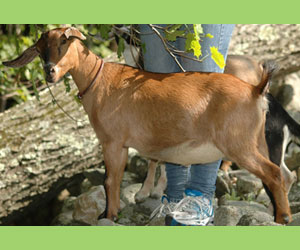 Olive Knoll Allegra
Allegra has the same sire as Seraphina making them half sisters. They tend to sleep and feed near each other. Allegra shows her Nubian heritage in her ears and shape of her head. She is a tall girl who has recently shown marked growth in all directions. Her depth of body, width and length have suddenly all increased. Her heart girth has increased enough to move her past the leggy teenager look. She has a strong and willing personality and is ready to run, jump and battle for food or just for the fun of it. She's always ready for some attention.
Her sire Fantin tends to play a strong role in the conformation of all his kids so I expect Allegra to grow into a good example of a dual purpose goat with thickness and milk production. Her dam has small teats but Allegra seems to have larger sized teats so I don't expect that to be an issue. Her dam Cinnamon has the lovely triangular shape of dairy along with the meatiness necessary to fulfill the Kinder breed dual purposes of meat and milk. She passes down to her offspring a nice topline including fairly level rump. I expect Allegra to surpass her dam in a number of ways and for Allegra's offspring to be fine examples of the Kinder goat.