Our Kinder Goat Herd
This page introduces our Kinder goats. We are starting with young goats and we will add photos as they grow. Click on their photo or name to go to their page and see pedigree and other information.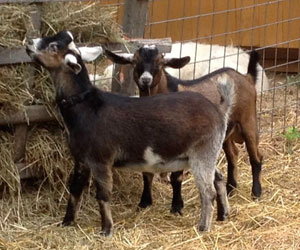 Pricker Patch Farm Caleb
Caleb is a growing into a tall, deep-bodied buck. He has been through many growth phases and I'm delighted to see him starting to "chunk up" and show the width and depth of body we expected from him given his genetics. He's a sweet and goofy personality who loves people and that's no surprise given how sweet and mellow his dam is. I took a chance on Caleb because it wasn't obvious early on whether he'd successfully embody the attributes of his lineage. Some kids are obvious choices early on and others go through more awkward stages but have an amazing bloom when they mature and everything comes together in a perfect way. I believe Caleb to be an example of the latter.
Caleb's dam Velvet has the best fore-udder in his breeder's herd and milks out quickly from nice sized orifices. She's deep-bodied and has a wide back end giving lots of room for her great udder. Velvet has a long and level topline and is an easy keeper. I expect these things to show up in Caleb's offspring.
Caleb's sire Charlie brings a mix of genetics from two wonderful herds: Serena Kinders and Gray J Kinder. Both these farms do a great job breeding meaty goats that produce well in the milk bucket as well. His genetics should give Caleb the ability to keep adding what I call "the chunk factor" to his offspring.
Caleb is the current leader in our buck herd of two. He's in the midst of a sudden growth spurt upwards and his neck is thickening as he gets closer to mature size. He's very convinced he is the best in the county and is busy vocalizing about that as we head into the breeding season. I look forward to seeing his offspring next year. I think they will be very special.